J LS- E M
In combination with latest technology of computer, knitting and machinery.
A new innovation, JLS-EM, full electronic mesh knitting machine is able to produce mesh fabrics by special cam design and yam feeder.
By feeding 2 kinds of. yarn with different specifications into yarn feeders , Computerized actuators perform the movements to make the fabric patterns with unlimited versatility.
The fabrics produced by JLS-EM is convertible to produce both mesh and single Jacquard fabrics with out changing any mechanism .Slightly adjustment in sinker cam block is able to get the alternatives of both functions.
¡½ELECTRONIC CONTROLLER
With the best Micro-Processing technology enabling the Electronic control system together with floppy disk drive and touch panel, in the frame of the machine itself. The controller with the functions of data input¡A¡O Running Test, Counter Reset, Utility and Color Change. The pattern data are read into the controller and transform the command into the mechanical movements by the actuator.

¡½CAM DESIGN
The Cams, most significant portion, is made of special alloy steel and carved by CNC milling machines by the aid of Auto-cad design. Precisely heating treatment ensure its hardness and durable among heavy friction.
Cam design is subdivided into individual segments and is exchangeable for special pattern cams.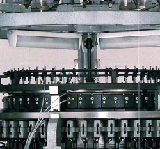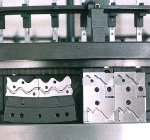 ¡½ACTUATOR
The defect of the traditional coil magnet actuator is limited by the sensible heat from the character of wire coil. The electric current create heating conduction to restrict the speed on the needle selection. To rectify this matter ,JLS-EM series use the advanced ceramic Actuator as standard which ensure the stable running and the Electricity consumes 9O% less than the old generation actuator and no more heat flow to restrict the performance on needle selection.
16 steps of the Actuators provide the sufficient space and more movement flexibility on needle selection. Reset function on the Actuator adopt the mechanism of forced slider to ensure the reset movement perfectly and prevent the exhausted elasticity on spring type of Actuator.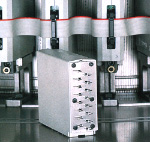 ¡½ THE BRACKET OF SYNCHRONlZED YARN KNITTING SYSTEM
The bracket set is designed for adjusting all yam knitting system in the same time.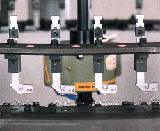 ¡½NEW ELECTRONIC CONTROL PANEL
It is more sensitive than traditional control panel which can supervise abnormal status of knitting machine and show different related numerical data , it is convenient for handling the best production status and speed (RPM), in order to keep the machine under normal operation.




¡½STORAGE FEEDER (SFT/SFE)
The essential advantage of the SFT (SFE) is that it compensates for tension variations resulting form the bobbin make-up, Yarn path, etc. The use of various type of tension ring ensures a range of constant yarn take-off tensions.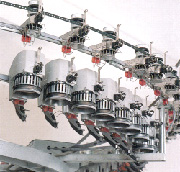 ¡½MOTORIZED TAKE UP SYSTEM
This machine is equipped with a torque motor, And is driven by mechanical transmission.
It can simultaneous pack up and roll up the single-side, double-sided, and jacquard fabric.
The system steadily execute fabric-pulling and fabric-rolling without affect yam tension.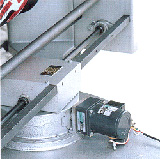 SPECIFICATIONS
DIAMETER
JLS-EM 30-3P
NO. FEEDS
48F
GAUGES
12G
14G
16G
18G
20G
22G
24G
26G
NEEDLE NO.
VO88.80.G01
VO88.65.G01
VO88.48.G01
VO88.41.G015
R. P. M.
15-25 RPM
MOTOR
7.5HP
PACKING
Dimension =LxWxH(2300mmx1950mmx2200mm)
Gross weight¡G=2900KGW
¡@
---
JIUNN LONG MACHINE CO., LTD.
No.13-2, Wu Lin St., Shu Lin District, New Taipei City, Taiwan, ROC
Tel: 886-2-26841580~4 Fax: 886-2-26841730 E-mail:webmaster@jlm.com.tw